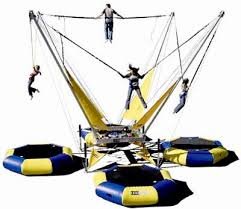 Bungee Trampoline
Strap in, hold on, and soar to new heights!!
Our bungee trampoline power jumper is guaranteed to thrill kids of all ages!! Jump 20+ feet in the air while you show off your backflip, front flip, and other acrobatic moves.

The bungee trampoline has become a "must have" at festivals so don't miss out, reserve it today! Our bungee trampoline comes with 4 trained attendants to guarantee safety and maximize fun, and of course we are fully insured and licensed.