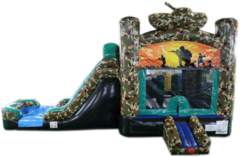 Camo Combo wet
Age Group:



All Bounce House rentals are based on 6 hour rental. 




With fun battle scenesabove the entrance and an inflatable tank on the roof, this Camouflage Camo Bounce House is the perfect addition to any military themed event.

Little soldiers will charge into the bouncing fun again and again. The unit contains a bounce house, a climbing wall and a slide in this inflatable combination and can be used wet and dry.