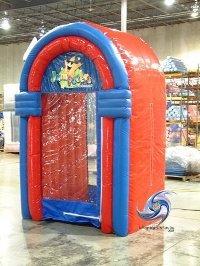 Cash Cube
Cash Cube
Money Machine

https://youtu.be/9Escjvp2lTs
As the blower starts in the Cash Cube you are surrounded with a windstorm of flying cash, discount coupons, or gift certificates. You grab all you can in the time allowed as the crowd cheers you on.

A Cash Cube or Money Machine is a great draw at trade shows, parties, picnics, and other parties and events. Cash cube money machine is one of the most effective promotional devices because it allows everyone who plays a chance to win money and is great fun for observers. An inflatable cash cube (money machine or money blower, as some folks call it) is fun way to distribute cash or coupons at an event.

Ask us how a Cash Cube can enhance your event!
Add a Cash Cube to your next event.