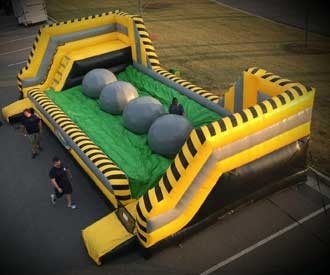 Leaps and Bounds
Have you ever thought you need to test your Ninja skills? Laser Sporting has the piece for you.
Contestants experience the Big Red Balls made famous by the popular TV show Wipeout?
Leaps & Bounds is the way to do it! With the Leaps and Bounds interactive course you're going to get your chance.
This game features a series of four giant inflatable balls which challengers must leap across to reach the other side. We'll bring these inflatable games to AL, GA, FL, and most anywhere you want to have fun.
•

Climb up the ladder to the platform high above ball pit.
•

Cross the course by leaping to the first ball
•

Leap to the second ball
•

Bound to the third ball
•

Leap to the outside wall
But don't worry if you fall off, the floor of the pit is protected by a super-soft landing cushion featuring the air bag technology.
Other names for this product: Wipeout X-treme Ball Run, big red balls, wipe out, leaps-n-bounds, leaps n bounds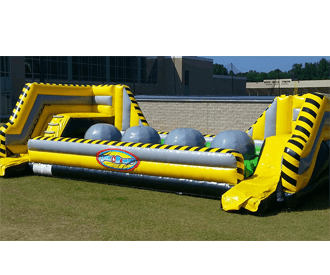 Throughput of 60 guests per hour
Required space: 39' × 21' × 12'
Requires (2) 20A/110V electrical outlets
Weight Per Person: 250 lbs
Occupancy Max: 1 (leaping at a time)
Operator(s) Required: 1 (not provided)



$1,000 for first 4 hours/ $100 per additional hour