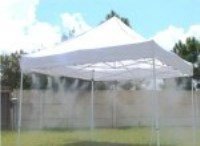 Misting Tent
The 10' X10' misting tent makes a shade tree look hot! Helps keep participants and event staff safe from over heating. When the mercury rises, the mist tent is a true attitude adjuster.
When the summer heat is raging, relaxing under a misting tent is one of the best ways to cool down. Our misting tents are great because they simultaneously provide shade and the cool relief of water misters spraying a cool fog in the air.
Portable misting tents can also be useful at your next outdoor event. From tailgates and festivals to any summertime athletic event or barbecue, a misting tent can entice customers and passersby with a cooling respite on a hot day. Virtually any location can become a cooling zone.
Our misting tents work anywhere that has a garden hose connection. Simply connect the tent to a water source, and you'll be cooling down immediately. Many users have noticed as much as a 15-20 degree temperature difference when under the shade of a misting tent.
Don't let the sweltering heat ruin your summer! A misting tent is an easy way to stay cool when you're outside.