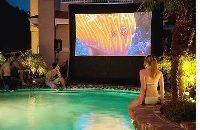 Outdoor Theater System
Outdoor Movie Theater Systems
Backyard Theater
Our Outdoor Movie Theater System is the perfect solution for those nights when a movie on the television is just not enough. Our large inflatable screen (12' X 7') will provide up to 100 people an evening of enjoyment.
Your Family, School or Church Group can host an indoor or outdoor movie night that brings families &,friends and community together.
Great for:
City & County Parks Festivals
Corporate Events Universities
Clubs & Resorts Media Partners
Sporting Events
Schools & Churches
Advertising
Promotions
Don't forget the POP CORN!