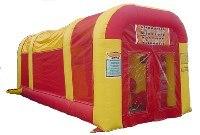 Paintless Paintball Shooting Gallery
Paintless Paintball Shooting Gallery
All the Fun without the Pain and Paint
Test your shooting skills and speed, hit the lighted target with paint ball guns shooting paintless paintballs and score points. Comes with timed targets, paintless paintballs, paintball guns, safety face masks, and scoreboard. Our electronic inflatable game combines graphic inflatable units with a state-of-the-art electronic target system. Truly the most unique and challenging inflatable shooting gallery available today!
25' x 12' x 12' Custom Arena
2- Tippmann FT-12 or Model 98 markers with 200 rd hopper
500- Paintless Paintballs
10- Electronic Targets( 5 for each side of the arena)
2- Electronic Score Boards
$750 for a 2 hour rental, extra hours $100 each.