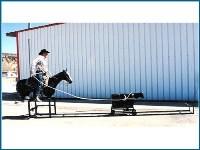 Rodeo Roper
Rodeo Roper - Lasso the Calf
Rope Bullet before he gets away -YEE HAH!!!

Ever wanted to be a cowboy/cowgirl? Hop up on Trigger, our tame black stallion, and get ready. Bullet, our black calf, will shoot out from under Trigger and race down the track. Now is your chance to lasso him. You better be quick because he is fast.

The speed is adjustable for all skill levels. Great for western themed parties. This is a big activity for all ages and a fantastic "Kodak moment" as well.

Once mounted on the horse you simply tap the starter with your heel, releasing the calf from under the horse, allowing you to rope. Once reaching the end of the twenty foot track, the calf pauses briefly, then returns to the original starting position. This allows the roper to remove the rope, start again, and never dismount the horse.
$400 for a 2 hour rental, extra hours $100 each.