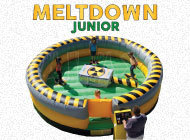 Toxic Meltdown Jr.
Setup Area: 20' X 25' Flat Area
Outlets: 2
Attendants: 1




Toxic Meltdown Junior
Toxic Meltdown is a game for the whole family to play, but what happens when the kids just want to have fun with other kids? Then… Toxic Meltdown Junior to the rescue!
After seeing the huge success Toxic Meltdown has been, here at Galaxy we couldn't wait to create the same concept but for children only, and that's how Toxic Meltdown Junior was born.
A fun, entertaining game, to bring the kids laughter -and tiredness-, extremely safe, light and easy to transport, just as any of our multi ride systems.


This system needs two 20 amp circuits.


$400 first 2 hours. $100 each additional hour.