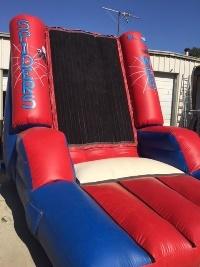 Velcro Wall
Inflatable Velcro Wall
Sticky Wall
The Velcro Wall was made popular by David Letterman on the Late Show. Contestants put on a Velcro suit and propel themselves upon the Velcro wall. The event's assistants then "peel" them off the velcro wall.
EQUIPMENT, POWER, AND MANPOWER REQUIREMENTS
Equipment requires and area at least 20 x 20 feet and 1 20 amp - 110v power outlet. Two staffers will be provided one hour prior to start of event to assist with operation of the equipment.
Contact us today!