"Everything has a price"

The prices will be finished very soon

All sales are "As is; where is" in Fairburn, GA
Paintless Paintball Shooting Gallery
All the Fun without the Pain and Paint

Test your shooting skills and speed, hit the lighted target with paint ball guns shooting paintless paintballs and score points. Comes with timed targets, paintless paintballs, paintball guns, safety face masks, and scoreboard. Our electronic inflatable game combines graphic inflatable units with a state-of-the-art electronic target system. Truly the most unique and challenging inflatable shooting gallery available today!

25' x 12' x 12' Custom Arena
2- Tippmann FT-12 or Model 98 markers with 200 rd hopper
500- Paintless Paintballs
10- Electronic Targets( 5 for each side of the arena)
2- Electronic Score Boards

$1,500.00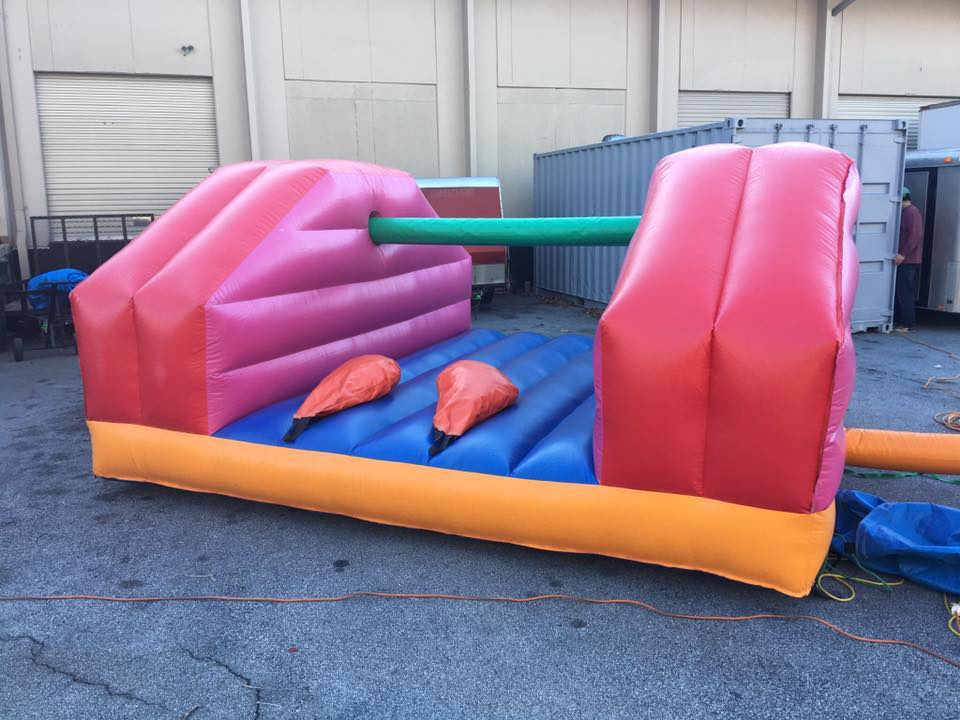 Pole Joust

Try the Pole Joust. Challenge anyone. Balancing on the padded pole adds a distinctive challenge to this friendly combat. But don't worry, the large inflatable air mattress will soften the fall to those who don't survive the challenge. (Yes, the guys pictured may be a slight mismatch. The guy on the left is 7'2" and the other guy is 4'10".)
Add one to your next event.
EQUIPMENT, POWER, AND MANPOWER REQUIREMENTS
A relatively flat area approx. 20' x 20' is required. One 120V - 20 Amp circuit is required.
Nearly New.
$600.00
Four station Bungee Tramopoline
Our bungee trampoline power jumper is guaranteed to thrill kids of all ages!! Jump 20+ feet in the air while you show off your back flip, front flip, and other acrobatic moves.
The bungee trampoline has become a "must have" at festivals so don't miss out, reserve it today! Our bungee trampoline comes with 4 trained attendants to guarantee safety and maximize fun, and of course we are fully insured and licensed.

$7,500.00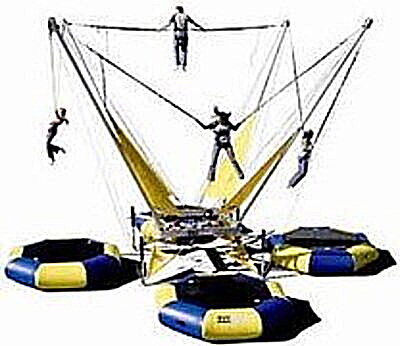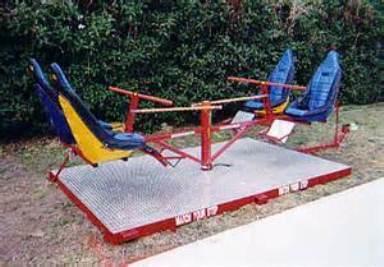 Twist N Spin
Twist and Spin or Sit and Spin whatever you call it, we call it FUN.

Your force self propels this spinning ride. You sit, you spin! Great for kids and adults. Up to four people can power this machine.

Fun for everyone!

$3,500.00
Orbotron / Human Gyroscope
Orbotron / Human Gyroscope
FEEL the Experience!

The Orbotron is a human gyroscope that simulates the feeling of weightlessness. Originally designed as an exercise machine, the rider can control the motion or our trained operator will assist. Spectators are drawn to the Orbotron by it's vibrant colored rings and the sounds of enjoyment.

The Orbotron is effective in all types of recreational situations. Having this anti-gravity device in your next event will add an extreme and safe attraction.

$3,000.00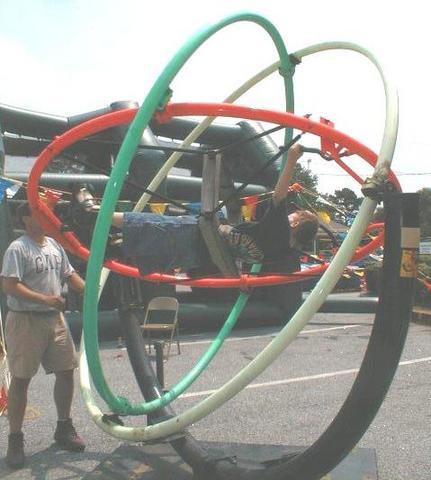 Water Balloon Battle
Two stations and water balloon filler

$300.00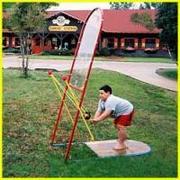 Safe Archery Challenge
Whether you have been shooting for years or have never picked up a bow, S.A.F.E. Archery™ offers a new way to experience archery. Shoot at our challenging Hoverball Targets for the feeling and experience of real archery.

The patented S.A.F.E. Archery™ Arrow, with their exclusive Safe Nock™ and soft foam tip, offers the same flight characteristics of a standard arrow yet is much safer, allowing opportunities to shoot indoors without special netting! The large foam tip makes it great for the kids to shoot in the backyard -- no more lost arrows!

$500.00

Additionally, it is a great way to get kids involved with archery as well as providing a fun activity that enhances eye-hand coordination, increases upper body strength, and helps to develop self-discipline. Our S.A.F.E. Archery™ Arrow is safe and fun for everyone!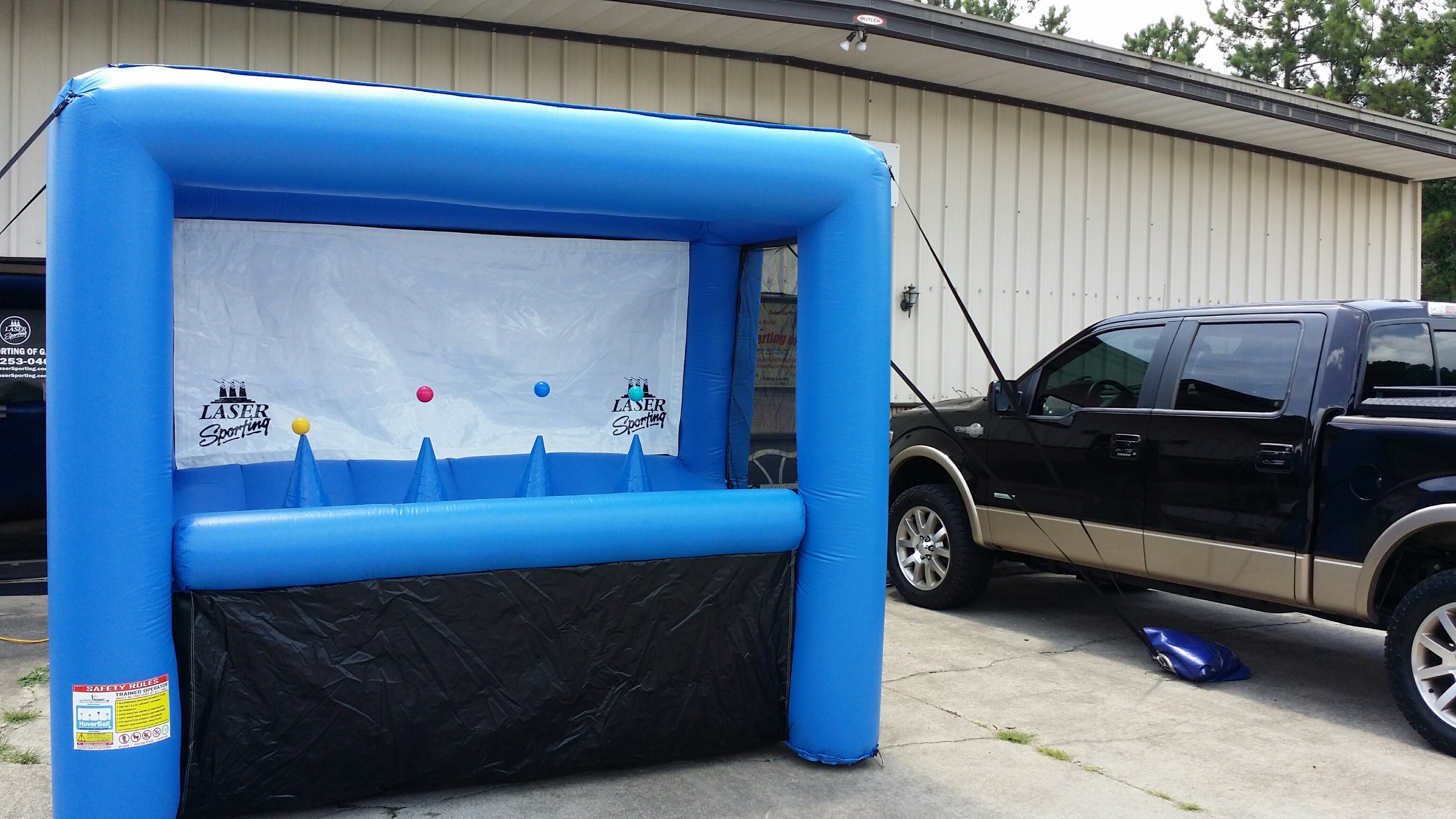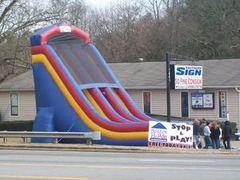 27' Rocky Mountain Slide
Two lanes of Fun

Hey guys. Check out our 27', two lane slide. It is our tallest slide. You can race a friend or just have fun on your own.

Setup Area: 40'x 30'
Outlets: 1
Toxic Meltdown Junior
Toxic Meltdown is a game for the whole family to play, but what happens when the kids just want to have fun with other kids? Then… Toxic Meltdown Junior to the rescue!

After seeing the huge success Toxic Meltdown has been, here at Galaxy we couldn't wait to create the same concept but for children only, and that's how Toxic Meltdown Junior was born.

A fun, entertaining game, to bring the kids laughter -and tiredness-, extremely safe, light and easy to transport, just as any of our multi ride systems.


This system needs two 20 amp circuits.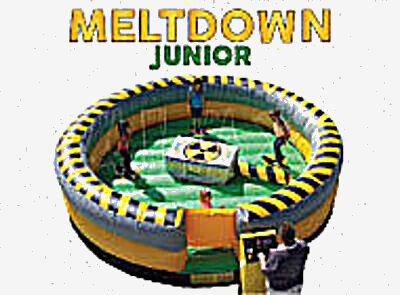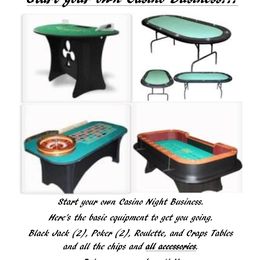 Casino equipment
Call me for complele list.


$2,500.00
Rodeo Roper
Rodeo Roper

Picture yourself or your friends on a life-size horse with lasso in hand! As you sit on the horse the object is to rope the moving calf before it reaches the end of the track. The speed is adjustable for all skill levels. Great for western themed parties. This is a big activity for all ages and a fantastic "Kodak moment" as well. .

The original foot release of the calf has been replaced by a wireless remote to ease in operation. Once reaching the end of the twenty foot track, the calf pauses briefly, then returns to the original starting position. This allows the roper to remove the rope, start again, and never dismount the horse.

EQUIPMENT, POWER, AND MANPOWER REQUIREMENTS

Equipment requires and area at least 10 x 20 x 10 feet and 1 20 amp - 110v power outlet..

$3,500.00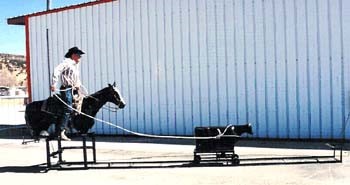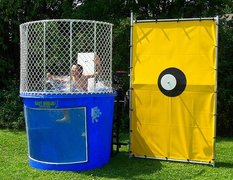 Dunk Tank
Isn't it about time to dunk your Teacher, Boss, Pastor, Mayor, or friends in 500 gallons of water? Let us deliver this huge dunk tank to your party or event. All you need is a level surface and a hose, we'll take care of the rest. Two target sizes and balls included.

$1350.00
Interactive Inflatables and Games
Carnival Games and Other Stuff
Copyright 2016, Laser Sporting of Georgia, Inc. dba The Bounce House 770-253-0407