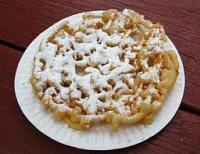 Funnel Cakes
Funnel Cakes
Fried Delights
Just like at the fair. We'll make real Pennsylvania Dutch Funnel Cakes at your event or party.

In addition to the big 8" standard Funnel Cakes, we also can make a 3" Funnel Cake we affectionately call "Baby Cakes".

Also ask us about using Funnel Cakes as a fun raiser for your church or nonprofit.

ALSO AVAILABLE - Funnel Cake Fingers - a totally new treat.
Pricing based on your particular event specifics.
Please call for pricing.